Bogie Hearth Heat Treatment Furnace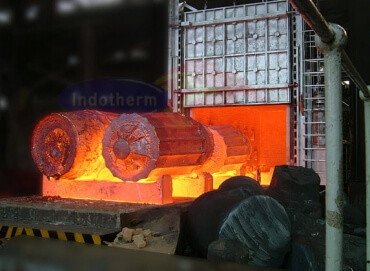 Enquire Now
Bogie Hearth Heat Treatment Furnace, utilized mainly for heat treatment of weighty and huge steel parts, is also helpful for temperature and air fluctuation controls like treating, toughening, delicate strengthening, normalizing, stress easing, homogenizing, and recrystallization with a conventional working temperature between 250 - 1150°C relying upon application.
The bogie is stacked external furnace by forklift or above a crane before the bogie is entering the heater. The heap is regularly chilled off inside the heater before the bogie is moved out by the operator, yet with a plan, the heater can be opened and the heap eliminated from the furnace for cooling or extinguishing while the heater actually is hot and working.
We at Indotherm Equipment Corporation make hand-crafted furnaces for any exceptional necessities. High-temperature applications are sintering, solidifying, strengthening, and normalizing though low-temperature applications are treating and stress alleviating.
Our Bogie hearth furnace is utilized in the open air and furthermore in a controlled climate according to usage. Plans are as a rule in and out bogie (hearth) development as well as totally double gate bogie development is accommodated by a mechanical production system or cycle line.
In light of client necessity, the method of heating is customized through electrical radiators, gas-terminated or oil-terminated burners. Indotherm Equipment Corporation heaters are energy productive and are accomplished by effectively fixing to forestall unnecessary intensity issues and thyristor influence controls to restrict current utilization.