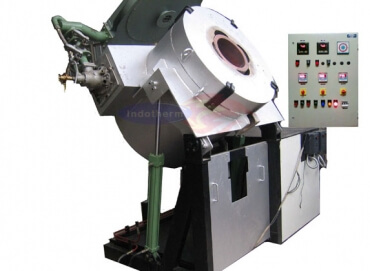 Enquire Now
Indotherm Equipment Corporation is the largest outlay in India for manufacturing and exporting crucible furnaces worldwide. Our plethora of products offer you electrically heated or gas-fired melting furnaces holding high temperatures while meeting the requirements for melt quality, productivity, and energy efficiency. With international standards, we produce top-quality assured furnaces. If you want to buy one for your chemical experiments, know its benefits:
Its double-layered housing is fitted for delivering qualitative outcomes with effective heating.
Ideal for electrically heated or gas-fired temperatures.
With its unique ceramic fiber insulation, it can withstand up to 1200 degrees C high temperatures.
Ideal for smelting ceramic parts, gold, zinc, and copper.
Applicable for long service
Highly efficient air cooling system
Withstand power supply of 220 Volts 50 Hz
Incorporated with sophisticated controls, extreme insulation, robust mechanisms, and an optimal combustion system, the Gas-fired crucible furnace works together in sync to make it an excellent furnace that saves precious resources such as metal and fuel.
Learn More
Indotherm Equipment Corporation is renowned as one of the best manufacturers and suppliers of highly energy-efficient hydraulic tilting crucible furnaces having segregation of robust mechanisms, an optimized system for combustion, and proportion controls.
Learn More