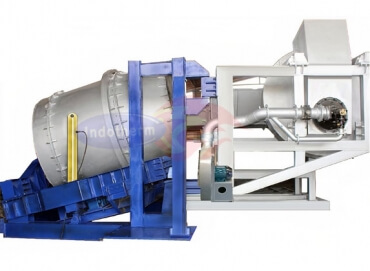 Enquire Now
Indotherm Equipment Corporation since 1991, recognized as a trusted Tilting Rotary Furnace manufacturer, supplier, and exporter of India. Tilting Rotary Furnaces are considered to be the most flexible type of furnace for re-melting of aluminium scrap. Due to its design, almost all kinds of scrap forms can be recycled with optimum results.
The furnace drum is rotated by a friction drive wheel system in most cases. A single door is utilized with a motorized horizontal rotation swing arrangement. Due to the negative tilt capability of the furnace, it is possible to have a large-diameter door that facilitates faster charging.
The high-performance tilting rotary furnace range from Indotherm Equipment Corporation produces the most effective melting furnace technology available in the market for processing mixed scrap and drosses. It is able to process many types of scrap including:
Drosses
Mixed scrap often with contamination (tense, taint, tabor, etc)
Turnings/swarf/chips
Scrap contaminated with iron and steel inclusions
Tilting Rotary Furnace is the One Stop Solution to get a Higher Yield of Metals in the most effective and economical way. With this Furnace Drosses, Mixed Contaminated Scrap, UBC, and Scrap with higher metals impurities can be processed easily.
Learn More
Indotherm Equipment Corporation is recognized as a trusted Rotary Furnace manufacturer, supplier, and exporter of India. These types of furnaces are mostly used where the scrap is small in size and available in different technical specifications.
Learn More