Turnkey Lead Acid Battery Recycling Plant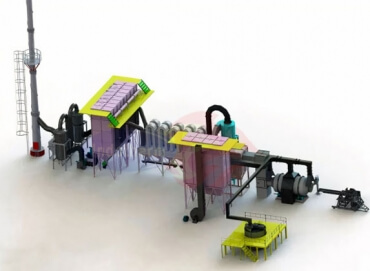 Enquire Now
We design and manufacture custom-made recycling solutions for Lead Smelting, Alloying, and Purification of 99.9 % of Lead. Rotary Furnace such as Barrel type, Conical Type, and Short Body is used in the smelting of Lead for Scrap Batteries. Our Furnace has a unique design where the user is benefitted from High recovery and Low Burning loss of Metals.
Charging and Extraction
After the Separation of Lead from Battery Breaking Unit Lead Paste Extracted from the Filter Press is charged into the Rotary Furnace whereas Hard Lead is Directly Charged into the Lead Alloying Pot and Soft Lead is Directly Charged into Refining Pot. A rotary Furnace is a High-Temperature Furnace where the temperature is raised up to 1250 Deg C for the Extraction of Lead. Whereas Relatively Low between 550 – 900 Deg C temperatures are recorded in Refining and Lead Alloying Pot Systems.
What can be charged in Indotherm High-Temperature Rotary Furnace?
From mild Lead bearing material such as Sinter, Lead-Acid Battery Scrap to High-temperature Lead Dross, and Concentrated Lead Ore can be processed in the Furnace. Indotherm is an ISO-certified company and has a successful Installation of more than 30 Lead Plants all over the World. We have the Expertise to provide our clients deep product knowledge, Critical designs along with Heavy Machinery Installation.
Our lead smelting rotary furnace is suitable for the recovery of lead out of lead-acid battery scrap, lead concentrate, and lead ore. We manufacture & install oil-fired rotary furnaces in different capacities with maximum production efficiency and the least production cost such as fuel, labor, and power consumption. The production capacity of our lead smelting plants can in different parameters be 3 M Ton to 15 M Ton per day i.e. 24 hours.
We provide a very effective and efficient pollution control system with the smelting plants, through which a lot of smoke dust of lead is collected. The collected smoke dust from our pollution control system is not only useful to prevent pollution from spreading into in environment but also increases the profit for the extra increase of recovery of lead out of the lead smoke dust collected by the system provided. An estimated value of extra increase of profit is 3% to 4%, which is only capitalized from the further recovery of lead from the smoke dust collected.