Salt Bath Heat Treatment Furnace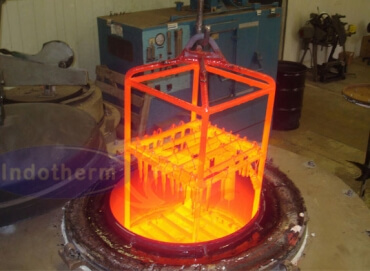 Enquire Now
A Salt bath furnace is a gadget for the heating or cooling of work by submerging it in a fluid comprising of fused salts of the legitimate structure for the reason expected. The salts might be warmed by electrical or gas-fired implies.
The working rule of the cathode-type salt bath furnace is to produce heat straightforwardly in the salt by using its protection from the passage of current. Salts, while separators in the strong state, are fantastic resistors in the fused state. Potential is applied to the liquid salt with the utilization of heavy metal bars called terminals that are associated with the auxiliary of unique different voltage air-cooled transformers. These electrodes are found and separated in such a manner as to work with electrodynamic circulation while empowered, giving a strong pump to assist with supporting temperature consistency all through the bath.
We at Indotherm Equipment Corporation offer Salt bath Heaters that have tremendous potential and work with different industrial applications utilized in the aviation, medical, and fabricating enterprises, from making cultivating gear and lawnmowers to treating high alloy hardened steels for planes, and dental specialist drills to keep our mouths clean. The salt bath process itself is somewhat basic.
Incredible temperature consistency and guarantee generally excellent intensity move to the workpiece.
Heat treatment can be done with more limited abide times than in chamber heaters.
Utilized for heat treatment of metals in unbiased and dynamic salt showers.
Used for cycles, for example, nitriding as indicated by Tenifer up to 600 °C, carburization to 950 °C or splendid strengthening to 1000 °C.
The cauldron is embedded with the goal that it is suspended in the salt-shower heater and can be supplanted effectively if essential.
Salt-shower heaters are accessible for heat treatment of steel and aluminum.
Dissolve shower control: the temperature is estimated in the salt as well as inside the heater behind the pot
Removable collar plate made of steel
Protected swing-away cover
Temperature consistency up to +/ - 2 °C as per Noise 17052-1 in the salt shower