Tilting Rotary Furnace for Clean Aluminium Scraps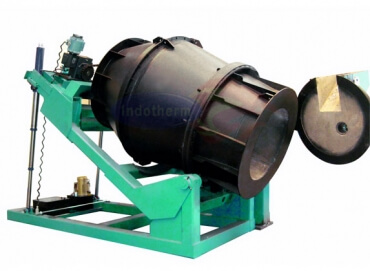 Enquire Now
Indotherm Equipment Corporation is recognized as a trusted Rotary Furnace manufacturer, supplier, and exporter of India. These types of furnaces are mostly used where the scrap is small in size and available in different technical specifications. Widely used in several industrial applications for melting copper scrap.
Tilting Rotary Furnace for Clean Aluminium Scraps is equipment that reduces the burning loss, reduces the cost of Melting, and thereby reduces the cost of production. Taking into consideration, a 'simple and least expensive' tilting rotary furnace is designed and developed by Indotherm Equipment Corporation.
We are capable enough to fulfill all the demands of our customers within a stipulated time period. We also provide on-time doorstep delivery of your consignment. Being leading rotary furnaces manufacturers, suppliers and exporters we offer after-sale services to our valued clients. To place your order, feel free to send inquiries.
Our furnace has the following features:
Fuel Option - A variety of Burner and Fuel Options are available
Oil Consumption - 60 Liter per Ton *When using used OilGas Consumption - 60-65 meter cube per hr
You may also like: